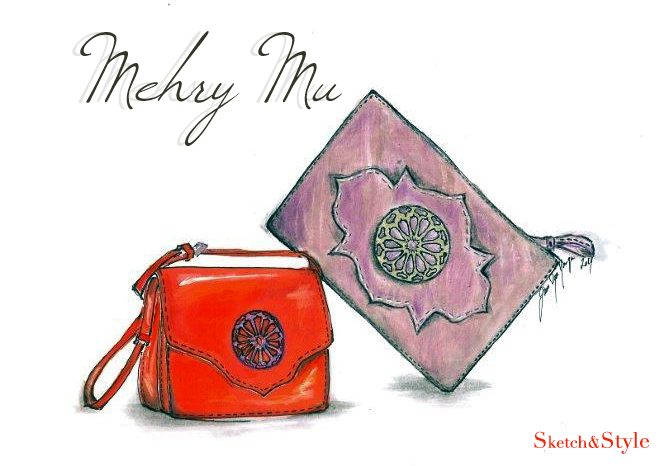 Illustration: Orange: Small Melo Bag – Lila: Melo Clutch
Mehry Mu, which I' d been following from its startup season, is a brand inspired by the combination of the entire Anatolian culture, which reconciles at Istanbul's mystic Grand Bazaar.The ikat fabrics (from the Istanbul-Morocco regions) and the hand figure of Fatima are the leading role players of Güneş Mutlu's bags. The figures, which belongs to the Anatolian culture, can be seen on the modern formed bags.
From sultan portfolio to cross shoulder bags you can find variety of models that can be used anytime of the day. The variety is increasing gradually with the addition of backpacks this season. You'll see my favorites from the summer collection in my illustrations. ; )  For sales locations click on the link . >>> MehryMu.com
Happy PS: Mehry Mu has just announced that she will add an accessories collection alongside her bag collection this season. We'll be waiting in anticipation.
————————–
Gelişimini ilk sezonundan itibaren beğenerek takip ettiğim Mehry Mu, ilhamını İstanbul`un mistik Kapalı Çarşı`sında biraraya gelmiş tüm Anadolu kültüründen almış bir aksesuar markası.İstanbul- Fas coğrafyasındaki ikat kumaşlar, Fatma Ananın Eli gibi etnik semboller Güneş Mutlu'nun tasarımlarının başrolünde olduğunu göreceksiniz. Anadolu topraklarına ait bu figürler, modern formlu çantalarda karşımıza çıkıyor.
Sultan portföy çantalardan, çapraz askılılara kadar günün her anında kullanıma uygun  modeller bulunuyor. Bu sezon koleksiyona  sırt çantalarının da eklenmesi ile çeşitlilik giderek artıyor.Bu yaz koleksiyonundan favorilerimi ise illüstrasyonlarımda göreceksiniz. ; ) Satış noktaları için linki tıklayabilirsiniz. >>> MehryMu.com
Mutlu Not: Mehry Mu çanta koleksiyonuna, bu sezon takı tasarımlarını da ekleyeceğini duyurdu. Merak içinde tasarımları bekliyoruz.