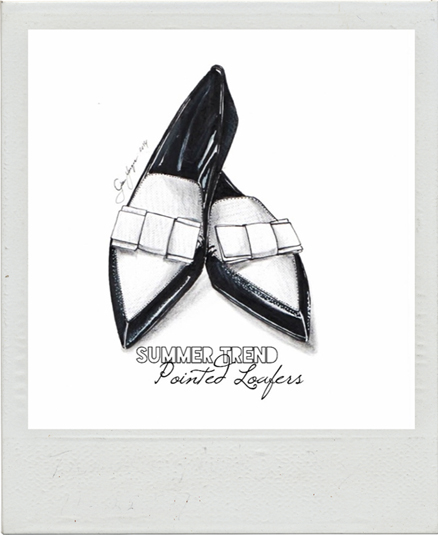 The pointed loafers/flats trend, which has shown its face for the past couple of seasons, started to rise in the Resort and Summer 2014 collections. We got used to the pain the stilettos have given us in the couple of past seasons. However, providing that we keep our trendiness, I don't believe that any of us would say no to the comfort of flats. Pointed flats are the most hit and painless trend of the season for me!
During the busy office hours you can obtain the modern Dior stylish look, however with your creativity you can have all the eyes on you at night.Pointed loafers can help you get the minimalist look if you combine them with a plain white t-shirt and a satin or cotton pajama trousers you had from last season; or you can be as stylish as Audrey Hepburn if you combine them with a 50's style full skirt dress. You will see how magnificent dresses and skirts go well with these flats.
Balenciaga, Tabitha Simmons  and Chloe are a few brands that has included pointed loafers in their collections. Make sure you get a pair of pointed loafers and flats soon because we will not be taking them off during spring and summer. You can find the best selections on Net-a-porter.
I've illustrated one of my favorite pointed loafers, which Nicholas Kirkwood has designed for the resort collection of Erdem.
I hope you'll like it.
—————–
Birkaç sezondur moda dünyası ile flört eden sivri burun babet trendi (pointed loafers – flats) 2014  resort ve yaz koleksiyonları ile iyiden iyiye yükselişe geçmeye başladı. Sezonlardır vazgeçilemeyen, sivri burun yüksek ökçeli ayakkabıların (stiletto) ayaklarımıza vermiş olduğu ağrılar ile yaşamaya alışmıştık.  Fakat şıklığınızı koruduğunuzdan emin olarak, babet rahatlığına hiçbirimizin hayır diyeceğini zannetmiyorum. Benim için sezonun en hit ve en ağrısız trendi!
Yoğun ofis saatlerinde koşturmalarınız sırasında modern Dior şıklığı yakalarken, gece gezmelerinde yapacağınız yaratıcı kombinlerle gözleri üzerinize toplayabilirsiniz.Sivri burun loaferları, düz beyaz t-shirt ve gardolabınız da geçen sezonundan bulunan saten yada koton pijama pantolonlarla kombinlediğinizde minimalist şıklığı, 50'lilerin kabarık etekli elbiseleri ile kombinlediğinizdez Audrey Hepburn şıklığını yakalayabilirsiniz. Etek ve elbiselerin bu ayakkabılarla muhteşem olacağını göreceksiniz.
Balenciaga, Tabitha Simmons, Chloe  sivri burun babet ve loaferlara koleksiyonlarında yer veren markalardan sadece birkaçı. Bahar aylarından başlayıp tüm yaz boyunca ayağınızdan çıkarmayacağınız sivri burunlu loafer ve babetlerden biran önce edinmeye bakın! Net-a-porter da en güzel örneklerini bulabilirsiniz.
Sizin için favorilerimden bir tanesi olan  Nicholas Kirkwood'un Erdem Resort Koleksiyonu için tasarladığı  pointy loaferın illüstrasyonunu yaptım.
Umarım beğenirsiniz…