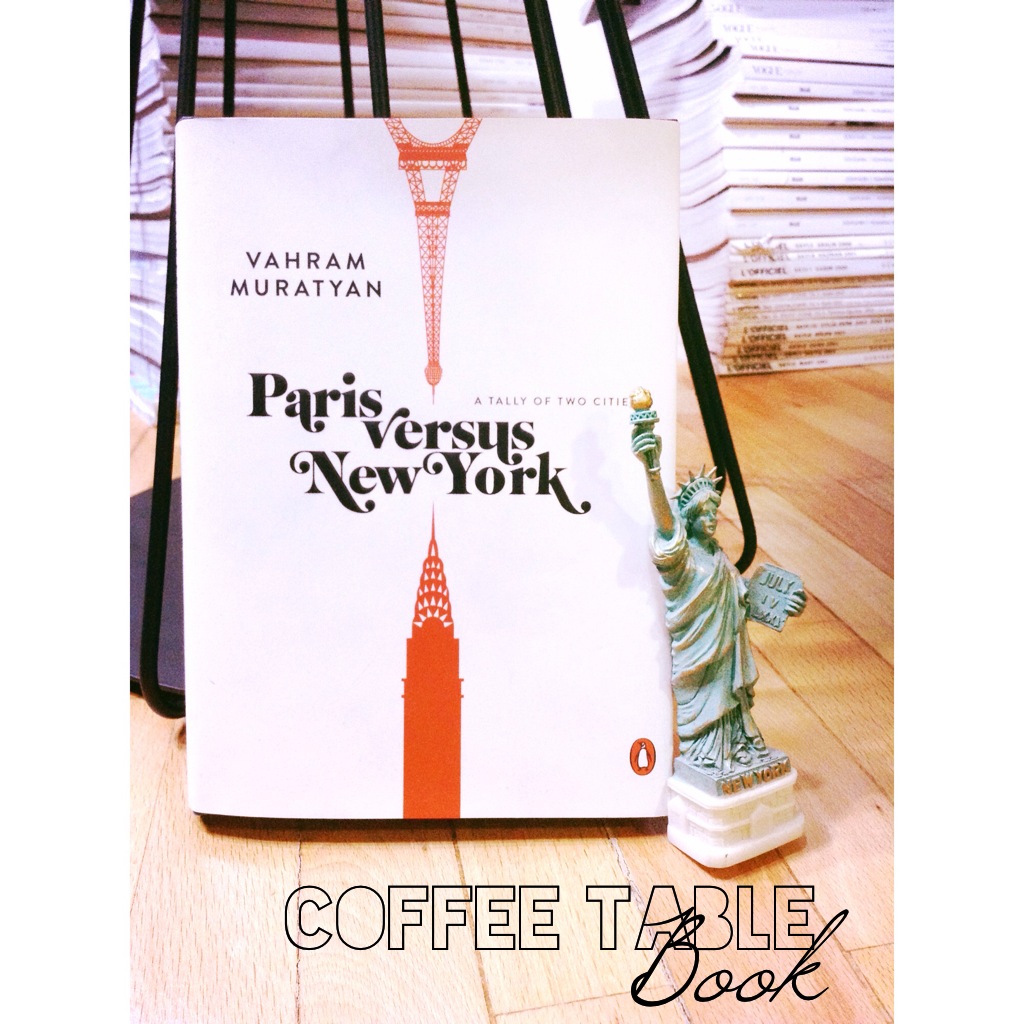 Two magical cities…
I always plan my next visit to these cities before I leave to make the farewells much easier. As both cities are so extraordinary and so unique, it is impossible not to be dazzled by them. If your're lucky enough to be living in one of these cities, you should count yourself very lucky as there are so many people who would die  to be in your shoes.
Vahram Muratyan have demonstarted the differences and the similarities of the daily lives of these cities perfectly with his illustrations. Every page includes an illustration which gives you nothing but joy. You realize the value of small details which we disregard during our daily lives.
You should definitely have a copy of Paris versus New York. It's one of my favorite coffee table book. Reading this book whilst having a sip from my copy exhilarates me. It will definitely put a smile on your face as well.
This book will enable you to witness these cities from a different perspective. Well, which city is your pick?
Espresso or Americano?
P.S. I purchased this book from historical bookstore 'Shakespeare and Company'  on one of my visits to Paris. You should definitely check it out if you visit the Notre-Dame area.
————–
İki büyülü şehir…
Bu iki şehre her gidişimde bir sonraki seyahatimin yakın bir zamanda olması için planlar yapmaya başlıyorum. Ancak bu şekilde vedalar biraz daha kolaylaşabiliyor. İki şehirde o kadar sıra dışı, o kadar  eşsiz ki büyülenmemek elde değil. Tabi bu şehirlerden birinde yaşayacak kadar şanslıysanız, bunun keyfini çıkarın. Bilin ki sizin yerinizde olmak isteyen çok kişi var.
Paris ve New York'un farklılıklarını-benzerliklerini günlük hayatın içinden kareler ile Vahram Muratyan illüstrasyonlarında çok güzel anlatmış. Her sayfayı çevirdiğinizde size mutluluk verecek bir illüstrasyonla daha karşılaşıyorsunuz. Koşturmacalar içinde üzerine çok düşünmediğimiz küçük detayları, bu yaratıcı kitapta görünce değerini alıyorsunuz.
Paris versus New York mutlaka kütüphanenizde yerini almalı. Benim favori kahve masası kitaplarımdan biri. Kahvemi yudumlarken elime bu kitap geldiğinde beni çok mutlu ediyor, sizin de yüzünüze bir gülümseme getireceğine eminim.
İkisi de çok özel olan bu şehirleri  kitapta farklı bir açıdan göreceksiniz. Peki ya sizin tercihiniz hangisi?
Espresso mu, Americano mu?
Not: Bu kitabı Paris'e yaptığım bir iş seyahatinde tarihi kitapçı 'Shakespeare and Company' den aldığımı ilave edip, eğer yolunuz Notre-Dame bölgesine düşerse uğramadan geçmeyin derim.