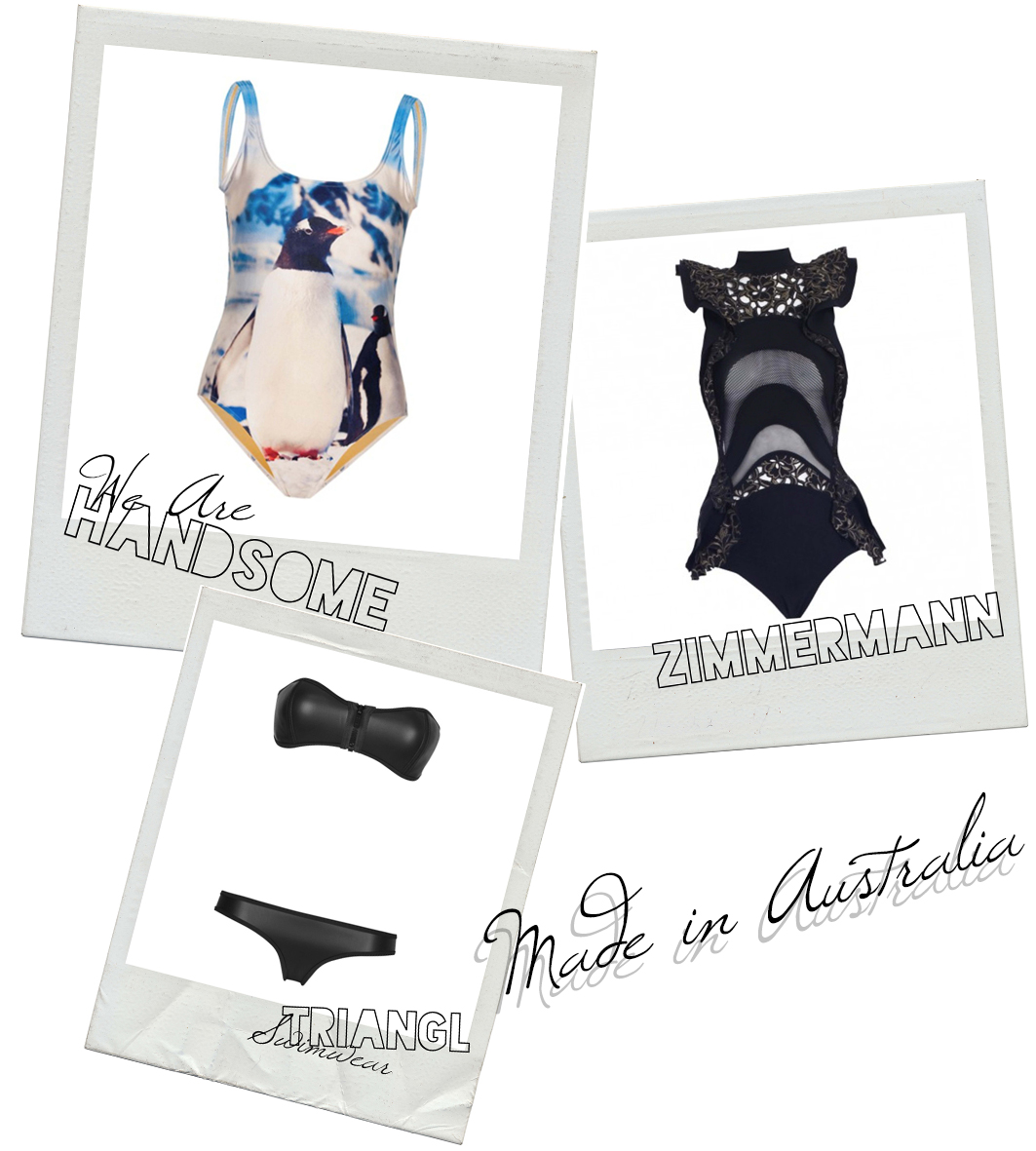 If you are one of those who misses the sun shining days of summer just like me, lets check out the collections of the designers who are enjoying summer in the southern hemisphere, together. The Australian designers and label have taken over the repetitive designers, in the past couple of years, with their unique designs.
"We are Handsome" is one of the leading brands in this trend. The brands digital print swimsuits, which are inspired by the tropics and animals, are becoming highly popular throughout the continents. It seems like we will hear much of "We are Handsome" with the increase of their product range.
I came across "Zimmermann" because of their unique beachwear collection. As I was cruising through the Zimmerman collection, I realized that their ready-to-wear collection was also an eye catch. It is a dynamic brand with a future and you should definitely check out their website. I am pretty sure you're going to love it!
"Triangl" bikinis, which are made from shiny neoprene fabric (fabric for wetsuit), stand out from the other brands. Neoprene fabrics have a firming effect, which will make you feel in shape. You'll stand out at the beach with the strapless, zipped bikini. The Triangl underwear models are ideal for those who don't like laces and prefer the comfort of sport models. The vivid color alternatives will look amazing underneath slightly transparent t-shirts.
So, next time you see a "Made in Australia" sign make sure you check twice. You never know what you'll see!
—————-
Bu soğuk havalarda sizde benim gibi güneşli yaz günlerini özleyenlerdenseniz. Güney yarım kürede yazın keyfini çıkartan Avustralyalı tasarımcıların plaj koleksiyonlarına birlikte göz atalım…Son yıllarda  plaj modasında tasarımcıların tekrara düşen koleksiyonlarına karşı ,  Avustralyalı markalar özgün koleksiyonları ile   fark yaratmış gibi gözüküyor.
"We are Handsome" bu akımın öncülerinden… Markanın çok beğeni toplayan tropikal ve hayvan desenlerinden ilham aldıkları dijital baskılı mayoları ününü kıtalar arasında giderek artırıyor.  We are handsome sağlam adımlarla ürün çeşitliliğini de arttırarak, isminden daha çok söz ettirecek gibi gözüküyor.
" Zimmermann" markası ile ilk mayo tasarımları sayesinde tanıştım ve markayı incelerken hazır giyim koleksiyonunda en az plaj grubu kadar dikkat çekici olduğunu anladım. Gelecek vaat eden genç bir marka sizde internet sitesine bir göz atın isterseniz, beğeneceğinize eminim!
"Triangl" bikiniler, parlak dalgıç kumaşları ve sade formları ile diğer markalar arasında kendini göstermeyi çok iyi başarıyor. Dalgıç kumaşlarının toparlayacağı özelliği  ile içinde kendinizi daha da formda hissedeceksiniz. Straplez plastik fermuarlı model ile plajlarda fark yaratabilirsiniz. Triangl iç giyim modelleri ise dantel sevmeyen spor şıklık yakalamak isteyenler için ideal. Canlı renkli alternatiflerin,  hafif transparan tshirtlerinizle çok güzel duracağına emin olabilirsiniz.
"Made in Australia" etiketi gördüğünüzde daha dikkat edin, neler çıkacağı belli olmaz!