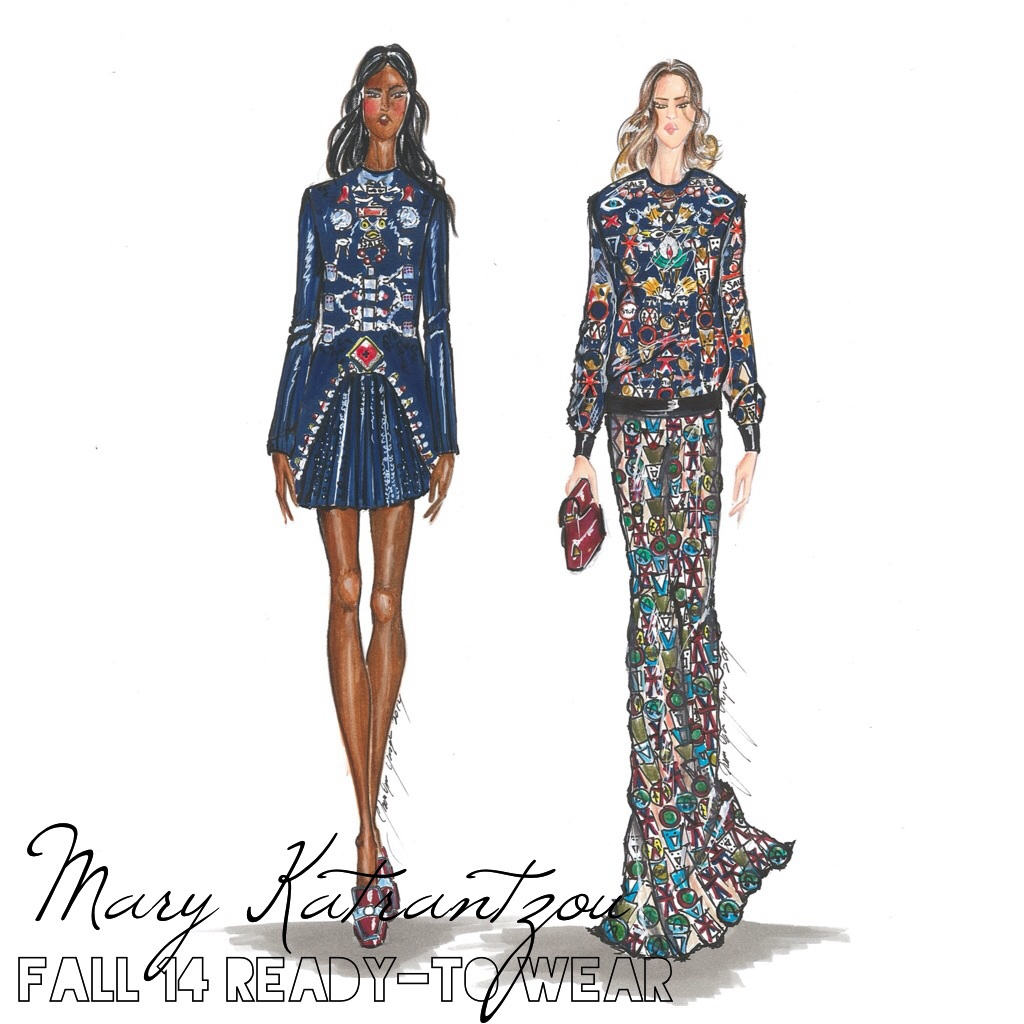 Wouldn't it be hard to believe if I told you that Mary Katrantzou did not use her trademark digital print at her latest fashion show?  The print queen of the fashion world took a great risk and showed everyone that her mature era has begun in her career.  She received a very positive reaction.
You can sense her Greek heritage with the use of different symbols in her collections. This time she has given us her humorous style with the use of embellishment, embroidery and beading instead of her print design.We will see these designs, which are a piece of art with their craftsmanship, frequently in the streets next winter.Although I was initially skeptical about the Mary Katrantzou fashion show, due to the plain colors, which I have never seen at her shows, I really loved the asymmetrically pleated dresses and plain colored coats.
The brand has been increasing its product range every season. Hence, giving the signal to the fashion world that they will be expanding furthermore. (The first shoe collection, in collaboration with Gianvito Rossi will hit the stores in the summer of 2014.) Ever since her graduation show at Central Saint Martins she has gained the appreciation of the industry with her anomaly. She manages to surprise us by creating a different design at her every fashion show. Thus, deserves the increase of her success.
—————
Mary Katrantzou'nun simgesi olan dijital baskılı desenlerden son defilesinde 1 tane bile yoktu desem,  inanmakta zorlanırsınız değil mi ? Moda dünyasının desen kraliçesi son koleksiyonun da risk alıp, kariyerinde daha olgun döneme girdiğini göstermek istedi ve karşılığında alkışları topladı.
Yunan  geçmişinin esintilerini  koleksiyonda kullanılan değişik işaret ve semboller ile gözler önüne seriyor.  Katrantzou, koleksiyonlarında desenlerle görmeye alıştığımız mizahı bu sefer nakış, payet ve işlemeler ile elde etmiş. İşçilikleri ile sanat eserini andıran tasarımları, önümüzdeki kış sokaklarda daha da fazla rastlayacağımız kesin. Düz renkleri Mary Katrantzou defilelerinde daha önce hiç görmediğimden ilk başta yadırgasam da, özellikle asimetrik pili elbiseleri ve düz renkli paltoları çok beğendim.
Her sezon ürün yelpazesini de genişleten marka, daha da büyüyeceğinin sinyallerini tüm moda dünyasına veriyor. (İlk ayakkabı koleksiyonu Gianvito Rossi işbirliği ile 2014 yazında mağazalarda yerini alıyor) Central Saint Martins mezuniyet defilesinden beri farklılığı ile sektörün beğenisini kazandı. Her defilesinde, tekrara düşmeden bizleri şaşırtmaya devam ediyor. Bu yükselen başarı grafiğini  da sonuna kadar hak ediyor.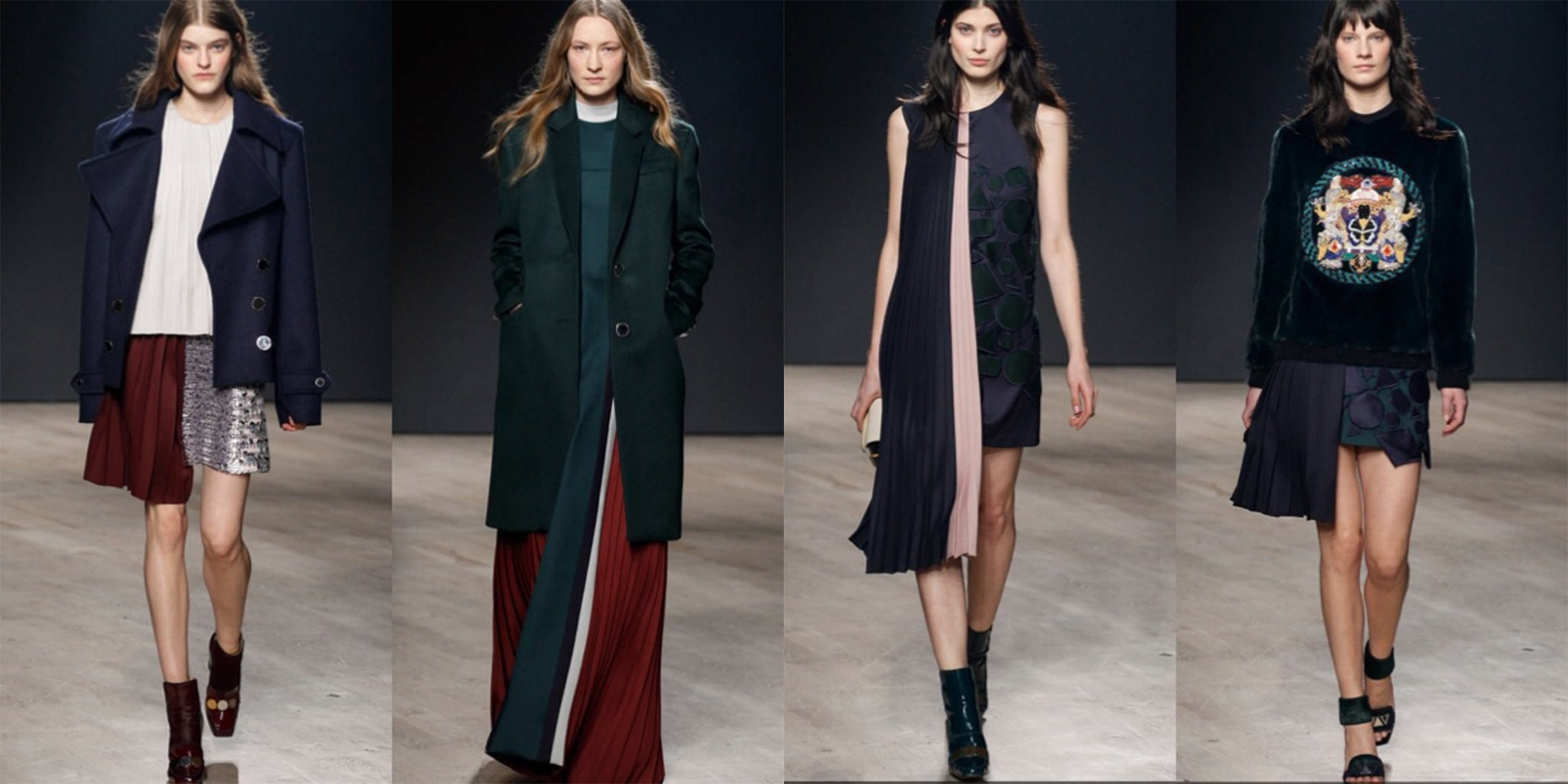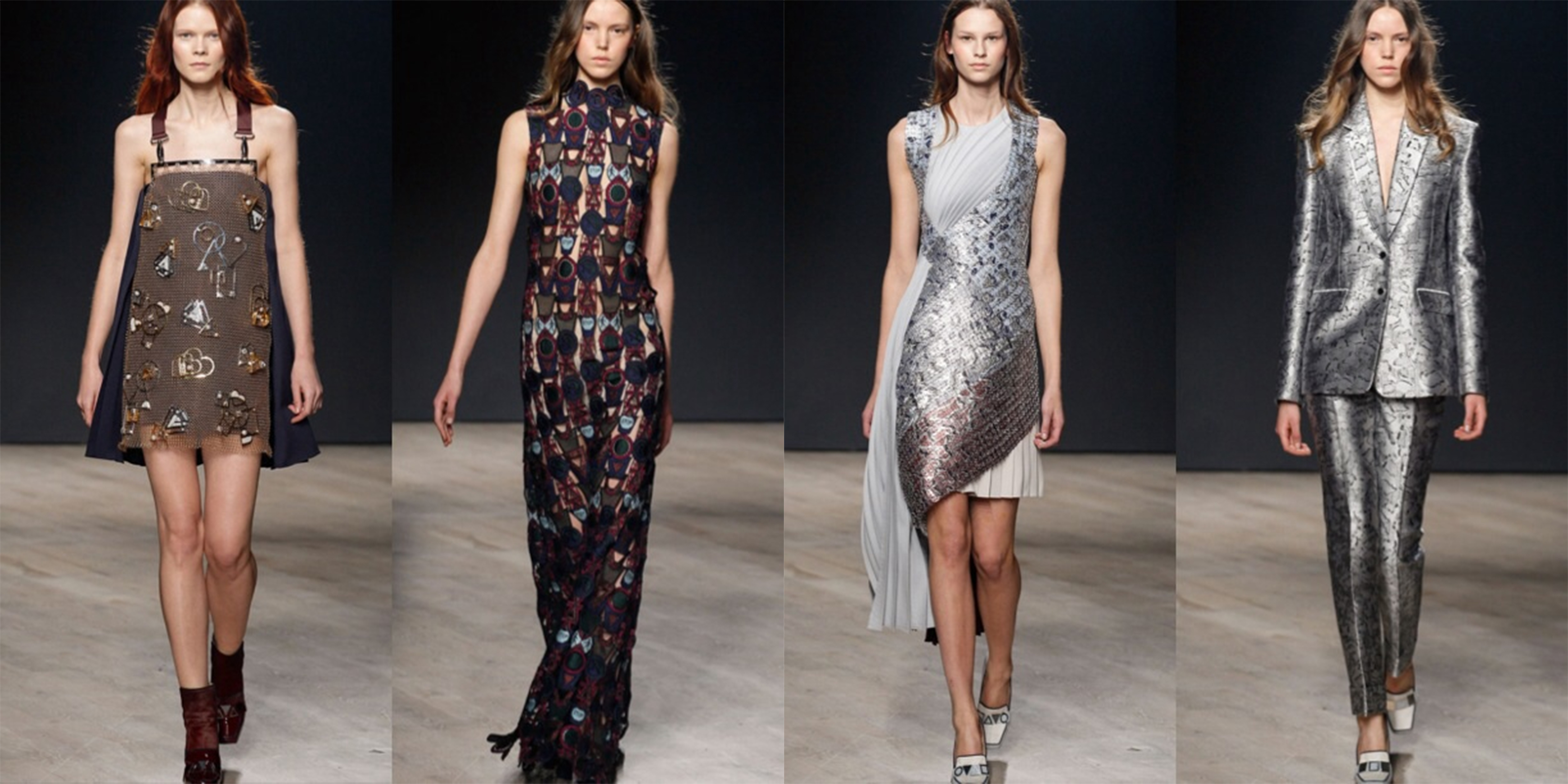 Runway Photos: Style.com